Yuri Idrizzi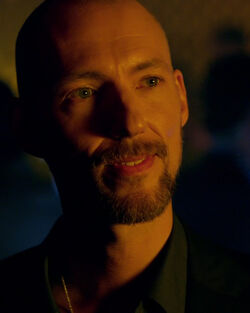 Yuri Idrizzi is the leader of the Albanian Consortium. [1]
Background
[
]
Yuri ordered the kidnapping of various women in their 20's so that their skin could be harvested. The Albanian Consortium were previous customers of Orillian Sapients, but they developed their own capabilities to produce sexbots and to provide them with human skin, which is illegal. Vanessa and Charlene were two of their sexbots who had Human DNA. Charlene was destroyed after the murder of Sebastian Jones, and the skin stripped from her, while Vanessa was captured by the police department before she was terminated by them.
Three of the women kidnapped at Yuri's orders were Lorraine White, Nicole Bloomquist and Kristen Haseman. Yuri ordered the closing down of the Skin Lab when the police were closing in and as a result Lorraine White died.[2]
Memorable Quotes
[
]
Season 1
[
]
Image Gallery
[
]
References
[
]