Vanessa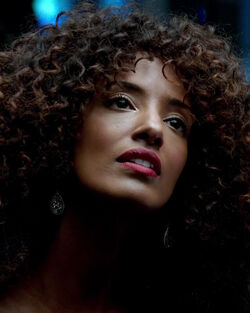 Vanessa was an Intimate Robot Companion created by the Albanian Consortium.
Background
[
]
Vanessa was created using the skin of Lorraine White. Vanessa was discovered when a car carrying members of the Albanian Consortium were stopped by the Police, including Detectives John Kennex, Richard Paul and Dorian. A DNA test was performed by Dorian who ascertained that Vanessa included the DNA skin of Lorraine White on her, Human DNA being incorporated into an IRC is illegal. Vanessa and members of the Albanian Consortium, who were driving her to an unknown destination presumably to destroy her, were taken to the Precinct for questioning. During the questioning Vanessa revealed the name of Charlene and that Yuri Idrizzi had told her to go with the other men.
Vanessa was then taken to Rudy Lom's laboratory where he was able to access her data port and locate the Skin Lab from where Vanessa was 'born'.
Due to the presence of Human DNA, Vanessa was required by law to be destroyed. Dorian was present while she was deactivated.
Memorable Quotes
[
]
"Why would anyone want to destroy me? There are much, much better things to do with me." - to John Kennex[1]
"Where am I going?" - to Dorian[2]
References
[
]