Jurassic World: Dominion Dominates Fandom Wikis - The Loop
Play Sound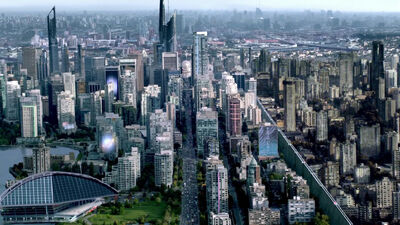 The Wall is a structure that has been built across the City surrounding the Old Town. The build date of the Wall is unknown, but it was between 2018 and 2036.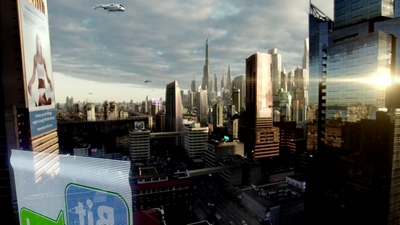 Any incursions of people from the other side are treated as a matter to be investigated by the police force.[1]
Citizens in the City are advised to stay on this side of the Wall.[2]
The Wall is monitored by a Watch Commander.[3]
It's assumable that the destroyed state of the city across from the Wall indicates some sort of disaster occurred there, and that it forms some sort of quarantine zone. However, dialogue also implies it to be a sort of excommunication area.
Quotes
[
]
"Talking to a witness. Individuals came over the Wall an hour ago." - MX-43 #340[4]
"You were on the news... about that ordeal at the Wall." - Ethan Avery
"I came out of that all right." - Sandra Maldonado[5]
"I swear, he so much as steps one more foot outside this vehicle, and I'm tossing him over the Wall, okay?" - John Kennex[6]
"Thank you for your cooperation, and remember: Hugs, not drugs. Stay on this side of the Wall and respect authority." - CSI scanner[7]
"The Wall... If this is about terrorism I can't think of a better target." - John Kennex
"Do you think she would try to create a breach between us and the other side?" - Valerie Stahl
"She's certainly got enough firepower." - John Kennex
"Alert the Watch Commander at the Wall. I want them to be extra vigilant." - Sandra Maldonado[8]
"What about someone on the other side of the Wall? John, you have to consider the possibility that the bot came from over there." - Dorian
"What? Is that a Joke? Where did they get the resources? Anyone this intelligent would not still be on that side of the Wall. Not willingly anyway." - Luther Estes[9]
"What about over the Wall? If you really didn't want to be found, to disappear off every grid, that would be the place to go." - Dorian
"I mean Vaughn's crazy, but not that crazy." - John Kennex
"I think John's right. I don't think he would go over the Wall." - Sandra Maldonado[10]
Image Gallery
[
]
References
[
]