The Recollectionist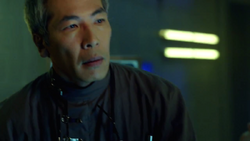 The Recollectionist is a black market medical professional from Sub-Asia.
Background
[
]
John Kennex has been making regular appointments with the Recollectionist. His office is located in the Koln Avenue District of the city and the procedure being performed is an illegal one. The aim is for John to regain his memories on what happened during the raid. This procedure is not without its medical risks. It has been implied that the Recollectionist has been supplying John with his black market medication as well.[1]
Relationships
[
]
The Recollectionist has been threatened with arrest by John when he has attempted to refuse to perform the procedure.  While he shows care for John as a medical professional, and appears to have some compassion for the man, the verbal threats from John mean that their relationship is professional only.
Memorable Quotes
[
]
"Well, yes, you can throw me in prison if you want, but... I accepted you as a patient out of kindness. You seemed like a desperate man when I met you. " -[2]
Image Gallery
[
]
References
[
]