The City is an unnamed west coast city in the United States in 2048. (As confirmed by creator,J.H. Wyman).[1][2]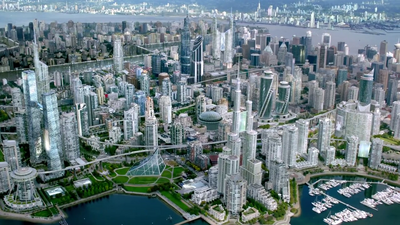 The City has a divided off section via the Wall. The Wall surrounds the Old Town. The Wall was erected during Detective John Kennex's childhood, sometime after 2017.
The reasoning for the building of the Wall and the separation is currently unknown.
The City is divided into Terms, Districts and suburbs.
Middle Ward District[8]
11th District (Downtown)[11]
14th District[12]
15th District[13]
18th District[14]
The series is filmed in Vancouver, Canada and there are specific Vancouver landmarks that are still recognisable in the 2048 version of the City. Other city landmarks have also been used in establishing shots, including Seattle.
Community content is available under
CC-BY-SA
unless otherwise noted.