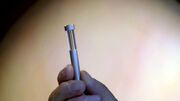 Synthetic Soul is a program that was created for the DRN synthetics by Dr. Nigel Vaughn, and their defining difference from other androids. It was also meant to be used for the XRN series and installed in Danica, the XRN prototype.
The aim of synthetic soul was to mimic the soul of a human being, allowing a synthetic bot to experience feelings/emotions and form emotional attachments or empathetic bonds. Like human beings, DRNs experienced 'breaking points' in respect to their emotional outputs. This was explained as the reasoning behind the decommissioning of the DRNs.
"DNA can be isolated under a microscope, you know, hair color, eye color, height, weight, ethnicity. The fundamental basic data can be traced to individual chromosomes. But the soul, that is who we are. It is our passion, our pain. Why we laugh, why we cry. Why we strive to be better. DNA, it's the data, but the soul? It's the story. It is the essence of life."- Dr. Nigel Vaughn[1]
References
Edit
Community content is available under
CC-BY-SA
unless otherwise noted.