Sebastian Jones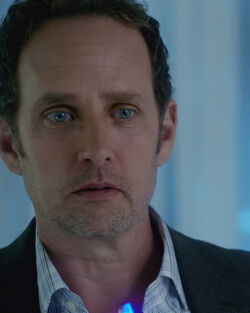 Titles
ID: 6955-8745
Pin: 84192674
Sebastian Jones
was an award winning cybernetics designer and founder of
Orillian Sapients
, a robotics company specializing in
sex trade robots
as well as the owner of 23 patents. Jones won recognition for his development of the
blush response
.
[1]
Background
Edit
Sebastian Jones grew up in the City and he attended the City University where he studied robotics and cybernetic design. After graduating he worked for a number of recognized brand name robotic companies before starting his own business "Orillian Sapients" which specialized in creating sex bots, or sex-trade robots. The business became very successful in part due to Jones' creation of the blush response and Jones became very wealthy. His company was recently placed in the top three net grossing robotics companies in the country.[2]
Sebastian was identified via his State DMV driver license, #8955134 which was issued on 09/20/2045. He lived at 34th Westminster, R17, 8998649. The Police Database report incorrectly identified his age as 41.[3]
Awards / Public Recognition
Edit
The Blush Response - Winner of the Innovation of the year award.[4]
Sebastian had hired the services of Charlene, an IRC in order to test her for Human DNA. He met her at the Deckard Gardens Hotel. He was observed doing so via phone surveillance and two thugs were dispatched to kill him. They shot him and tainted the crime scene with a DNA bomb.[5]
Appearance
Edit
Sebastian was Caucasian and had blue eyes and brown hair. He was 6'1" and weighed 165 lbs.[6]
Relationships
Edit
Lorenzo Shaw was Sebastian's former business partner in Orillian Sapients. They were currently on the outs as Lorenzo was suing Sebastian in the Middle Ward Corporate Court for the 3rd Judicial District.[7]
The Albanian Consortium were former clients of Orillian Sapients, and were the largest purchasers of IRCs. They withdrew their support of the company and Sebastian's gamble to invest heavily in new technology sent the company bankrupt. Creditors forced bankruptcy onto the company 3 months prior to Sebastian's death.[8]
Memorable Quotes
Edit
Image Gallery
Edit
References
Edit
Community content is available under
CC-BY-SA
unless otherwise noted.