Rudy Lom
Titles
Technician, Grade A2 (S.D.D.)
Also known as
Callum Waits
Dr Rudy Lom is the supervisor of the Police Department's Synthetic Dispatch Division. Lom is in charge of the hardware end of the android partnering system, and therefore performs service and diagnostics on Detective John Kennex's partner, Dorian, and all the MX-43 models.
Background
[
]
Rudy introduces John to Dorian, and is somewhat defensive/protective of Dorian when it comes to John's aversion to androids.
Awards, Commendations, Citations
[
]
Spirit of Hephaestus Award (fedgov commendation)
Minsky Award for Exceptional Technical Achievement (civilian commendation)
Commendation for Community Service [1]
Personnel Notes (For eyes only - Clearance D5 and above)
[
]
Mr. Lom's expertise in robotics, A.I. programming, and microprocessor & microservo technologies have made him an outstanding asset to the department. This is especially important, since Android partners (MX-43 Class) are now required for all officers.
Lom currently supervises the Police Department's Synthetic Dispatch Division. According to a recent PolPsych evaluation, "Lom's high intelligence often alienates him from other members of the department." This has led to an increasingly isolated role within the organization. (Eval by Tilden, File #LC041-RL) [2]
Callum Waits
[
]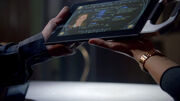 Detective Valerie Stahl created the undercover personality of Callum Waits for Rudy Lom to assume when he assisted in trying to bring down The Bishop by posing as a Bends cook. Callum was born in Newcastle, England and lived there until his father passed away from the Scales and his mother moved them to Reading, England. Dr. Demardi taught Callum how to cook and he spend an 'endless summer' in Guam for a number of years.[3]
His first arrest occurred on March 29, 2014. He was convicted on two counts of possession with intent to distribute and manufacture narcotics. He spent six years on the Barge but his sentence was reduced for good behavior.
Trivia
[
]
Dr. Lom's hacker handle was 'Aphid' as they are small but destructive creatures.[4]
Rudy was a child model. He has a 'Rothschild nose'.[5]
His Laboratory is based in an old church.
Rudy is bisexual, as proven by him claiming the review board guy "might be the one".
Memorable Quotes
[
]
"That's...rude."
- Rudy Lom to John Kennex while discussing DRNs (Pilot)

"Problems? Who doesn't have problems?.."
- Rudy Lom to John Kennex (Pilot)

"It's about passion, passion in your work. It's science, yes, but it's also an art. Ingredients are ingredients but, if you go quiet and you just listen… they start to talk back to you. And they tell you what they need. The whole becomes greater than the sum of the parts. Take your robot for instance. So many disparate ideas and concepts that all need to come together. But if you'll approach your work with reverence, and put your very soul into it, it starts to get a life of its own. And, dare I say, you can grow very fond of that creation…"
- Rudy Lom to Alexio Barros (The Bends)
Image Gallery
[
]
References
[
]