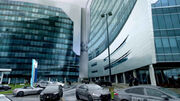 The Los Angeles Police Department has been charged to take on the battle to watch over the populace of the City using both human and man-made cops.
Science and Technology have evolved at an uncontrollable pace with unknown drugs and weapons flooding the streets and schools. This contraband is controlled and distributed by violent and faceless criminal organizations. The outcome has been an increase in the crime rate by an astounding 400%. Outnumbered and overwhelmed, the LAPD implemented a new strategy: Every Police Officer is partnered with an advanced, combat-model android.
Sections
[
]
Delta
[
]
Detective and Investigation Division
[
]
Vice Squad
[
]
Synthetic Dispatch Division
[
]
Crime Scene Investigation Unit
[
]
Evidence Locker room
Two Five Precinct
[
]
Narcotics Division
[
]
Internal Affairs (I.A.)
[
]
11th Precinct
[
]
Case Files
[
]
The LAPD requires all officers to provide detailed Case Files on all cases they are assigned to. Files are accessed via the Police Database as electronic and audio options.
Protocols
[
]
Mandatory Synthetic assignments
[
]
Sometime between 2045 and 2048 it became mandatory for MX-43 models to be partners for all human Police Department officers.
Hostage Situation within a building
[
]
The Protocol for a Hostage Situation within a building is for a three block radius to be cleared and all incoming and outgoing signals to be jammed. The Detectives and Investigation Division, Delta Section used the Protocol during Case #00C-Q74102.
Technology/Equipment
[
]
The LAPD use MX-43 droids as their main Synthetic partner. The Detectives and Investigation Division, Delta Section, also have a DRN model, Dorian, assigned to partner Detective John Kennex at the request of Captain Sandra Maldonado.
The LAPD makes use of Watch Drones, which apparently have the capacity to carry small items. These drones resemble short flying cylinders, and are apparently equipped with camera systems. These link into a Facial Recognition database.
They also apparently have armoured vans equipped with titanium armour plate, and such a vehicle is apparently also able to block electronic transmissions.
Standard police sidearms, according to Internet Movie Firearms Database, seem to be a modified Zoraki 925 with a laser sight attachment. This weapon is frequently seen in Officer John Kennex's hands, and is also used by other members of the PD. However, Kennex swaps to a modified Taurus 92 with a laser sight later in the show. They also do make use of other handguns, such as the Beretta 92FS, of which the Taurus 92 is practically a copy, and the Beretta 8000 Cougar, used by Maldonado and Stahl.
Police long arms seem to be P90 PDWs modified with extended threaded barrel suppressors, forward rail systems (RIS) with tactical laser-pointers and weapon lights, receiver top covers, and Magpul AFG grips, according to IMFD, while Police snipers use M14 rifles with JAE-100 stocks. Some shotguns are also shown, like the UTS-15, again fitted with laser sights.
Police and Detectives seem to not wear body armor when everyday, but don some sort of tactical vest in combat situations. This vest is marked POLICE in large white font, and does not bear any items, removing the possibility of it being a simple Load Bearing Vest. This vest is also used by SWAT.
Awards, Commendations and Citations
[
]
Various Awards, Commendations and Citations can be conferred on members of the Police Department. These include;
Police Medal for Heroism
Medal for Valor
Police Life-Saving Medal

Purple Shield
Commendation - Integrity
Commendation of Exceptional Merit
Commendation for Community Service
Excellent Police Duty
Meritorious Police Duty
Marksmanship: Distinguished Expert
Marksmanship: Expert
Marksmanship: Marksman