Jurassic World: Dominion Dominates Fandom Wikis - The Loop
Play Sound
Pete Vogel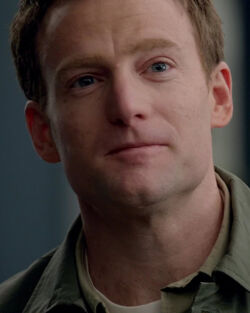 Titles
Detective
ID: 10150381405
Detective Pete Vogel was a Detective in the Detective and Investigations division, the same division as John Kennex, Richard Paul and Valerie Stahl, under the command of Captain Sandra Maldonado.
Background
[
]
Pete Vogel was the detective who placed an item in the Evidence Locker room as part of Case#6663. inSyndicate was keen to get their hands on this item and they arranged for Pete's kidnapping and murder. Pete was the test subject for inSyndicate to test if Myklon Red gas would react with the specific inoculations that were given to all police officers. These inoculations were developed in the police laboratories to protect all officers against bio-warfare, pathogens, gases, etc. The inoculations, combined with Myklon Red and programmable DNA resulted in Pete dying from 100 different diseases simultaneously attacking his body.
Earlier in the day, Pete had been attempting to access his files, but he believed that Martinez had locked him out deliberately. John, Valerie and Dorian discovered later on, after Pete's death, that all files relating to Case #6663 had been deleted, thoroughly. The evidence inSyndicate had been looking for was a head of a female synthetic, which was revealed to be stored in the Evidence Locker room, but has yet to be discovered by the police.[1]
Awards, Commendations and Citations
[
]
Memorable Quotes
[
]
Image Gallery
[
]
References
[
]