Paige Hernandez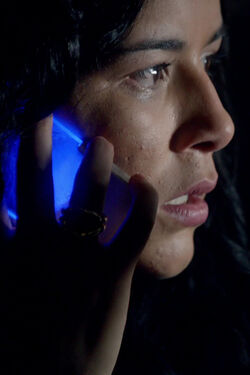 Paige Hernandez is the older sister of Jenna Hernandez.
Background
[
]
Paige is employed by the Sanderson Corporation. Her younger sister Jenna was visiting her when a group led by Gerald Leighton aka Lucas Vincent took Jenna hostage with other Sanderson Corporation employees on the 25th floor. Paige was hiding in a utility closet and the hostage takers were unaware of her presence.
Paige made an emergency call to the police but it was rerouted to Dorian as all outgoing calls were being jammed by the Police Department. Dorian transferred the call to Detective John Kennex once it was ascertained that Paige had information to assist them. Paige lets them know that there are 25 or so hostages being held, including her younger sister and that there are currently five or six gun men in the room, but there had been more previously.
Paige revealed that Jenna's middle name is Gertrude to Kennex. She also reports that the gun men keep going to a corner section of the window but she can not see what they are doing.
As Jenna gets more scared, Paige tells Kennex that she is sneaking out there to be with her, but will leave her phone open so Kennex can hear. While the gunmen are distracted looking at another area of the room she sneaks out to join Jenna.
Paige fakes the need to go to the bathroom, and after a tense discussion is given 30 seconds only. While on her way takes the time to slip her open phone into the pile of phones that the gunmen had confiscated.
Lucas Vincent selected Jenna to be his human shield and a tug of war ensued with Paige trying to take her place instead. This enables Dorian to enter the room via the air ducts.
Later that evening, outside the Sanderson Building, Paige sees Kennex and goes over to introduce herself to him. She gives him a hug of thanks. Kennex tells her she was very brave and saved a lot of lives. She asks after his partner, she has not learned his name, and then introduces Kennex to Jenna.
Memorable Quotes
[
]
"If we're gonna die, I want to be with her. She's my sister " - to John Kennex[1]
Image Gallery
[
]
References
[
]