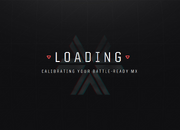 Meet Your MX is a promotional website for the Almost Human series. It prominently features the MX-43 Units and boast of their superiority and usefulness in law enforcement. The MX featured is MX-263, the variation of the unit has been seen primarily with Detective Richard Paul.
Introduction
[
]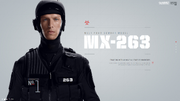 № 1

MEET YOUR COMBAT - MODEL | MX-263

TRAVELING WITH AN MX AT ALL TIMES IS MANDATORY.
SCROLL DOWN TO LEARN MORE ABOUT THE CUTTING EDGE TECHNOLOGICAL IMPROVEMENTS FOUND IN YOUR NEW SYNTHETIC PARTNER.
Emotion-Free Performance
[
]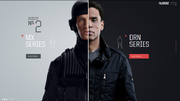 № 2

MX SERIES

The MX series is based on first-order predicate calculus. In order to make logic-based, rule-oriented decisions, it is designed to feel nothing.

PRECISE PERFORMANCE
FEATURED VARIATIONS
DRN SERIES

Older models - such as the DRN - were decommissioned because they have difficulty dealing with emotive regulations. Their Synthetic Soul program caused them to experience unexpected emotional responses. Like humans, the DRN has breaking points. Your MX does not.

COGNITIVE INSTABILITY
RECKLESS ACTION
Physical Composition
[
]
№ 3

ENGINEERED PERFECTION

Featuring several improvements and the finest in cutting-edge technology, the MX is the newest addition to the police unit.
OUTER BODY

Synthetic body parts, composed of silicon and carbon fiber, result in superior damage resistance.
A top layer of realistic epidermis provides a genuine look and feel for seamless workplace integration.
PROJECTILE TRAJECTORY

Data calculation deliver the destination of any projectile weapon nanoseconds after firing.
MOVEMENT DESIGN

Trimidium circuits in the spinal column provide advance motion and flexibility, delivering reliable precise movement execution.
INJURY DIAGNOSES

The MX's vision capabilities allow rapid analysis through a broad range of materials, enabling quick response time to internal injuries.
SITUATIONAL RISKS

Deliberation-free reaction times drastically decrease the potential of injury or termination.
Data Storage
[
]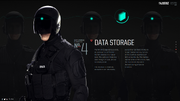 № 4

DATA STORAGE & ANALYSIS

The MX stores experiences as data, all uploaded to a centralized memory database on a regular basis. This particular model has been through 13 raids, and can recall every detail.
This database is universally accessible to ALL MX models; your partner functions not only on its own flawless memory, but also on the countless experiences of MX's across the city. This memory transfers allows all MX units to make the most statistically sound decisions during all tactical situations.
Partner Implementation
[
]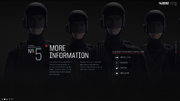 № 5

MORE INFORMATION

The MX partner implementation holds unlimited potential for success. Since partnering trials began, collective drops in field option failure have reached an all time low. Wearing the uniform has never been safer or more efficient than the new MX: a partner for a better tomorrow.
TO RECEIVE UPDATES ABOUT YOUR MX, VISIT:
OFFICIAL SITE
FACEBOOK
TWITTER
NEWSLETTER
More images
[
]
External links
[
]