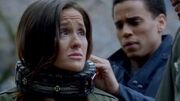 The MechNek™ pacification collar is a slave collar that was modified after market by Simon Lynch.
Simon Lynch placed a collar on Ramon Medina, Jeannie Hartman and Detective John Kennex in order to play a 'game' with each of them. Each of those collars were fitted with an explosive device and a timer. The collar was detonated by the timer on Ramon Medina. Jeannie Hartman's collar was disabled by Dorian and Detective Kennex, with assistance over Comms by Dr. Rudy Lom. Detective Kennex was able to disable his own collar before the timer ran out. Dorian assisted by emitting an electrical charge into Simon Lynch who was watching over Detective Kennex from a clock tower overlooking the park Downtown near the Seymour Building. The electrical charge ensured that Simon Lynch's muscles tensed and he was unable to let go of the 'dead man's switch' that would set off a remote signal to detonate Detective Kennex's collar.
Episode appearances
Edit
Community content is available under
CC-BY-SA
unless otherwise noted.