CSI McGinnis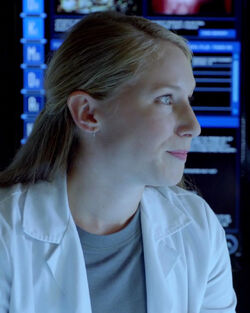 Portrayed by
Kristine Cofsky
McGinnis is a Crime Scene Investigator with the Police Department.
Relationships
[
]
McGinnis had been assisting Detective John Kennex for his off the book investigation into the ambush by inSyndicate. When memory flashbacks brought a matryoshka doll, that had been given to him by Anna Moore, to his attention, Detective Kennex brought the doll to McGinnis for testing as part of the off the book investigation. She discovered that there was nano-circuitry embedded into the paint on the doll to enable it to be a listening device. The last upload was seven hours prior to the CSI discovery.
McGinnis and Detective Kennex have a friendly teasing banter.
Appearances
[
]