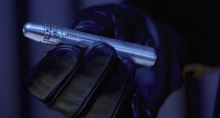 Magic Bullets are self-guided bullets that use the advanced guidance system to track down and kill any target. Revolution Now had stolen Russian Army designed self-guided bullets from a Ukrainian armory to modify and sell on the black market.The bullets have highly specialized MEMS that control the bullet allowing it to navigate to hit its target. the Magic Bullet has a maximum range of two kilometers can locate a single human target with an accuracy of 25 centimeters.
Background
Edit
Revolution Now extorted Anton Cross and into using his programming skills create the guidance system for the bullet by threatening his girlfriend Kira Larsen and her daughter Aimee Larsen. After prototype for the book was perfected used it to kill Anton and attempted to kill Kira as well.
Episode appearances
Edit
Community content is available under
CC-BY-SA
unless otherwise noted.