Linda Bennett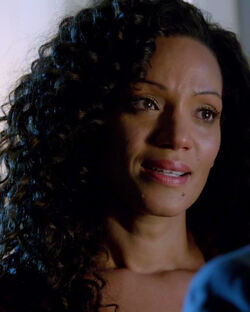 Portrayed by
Karen Holness
Linda Bennett was the wife of Michael Bennett.
Death
[
]
A year after the death of Aaron Kasden, Emily Wilson hacked the Synturion Smarthome security system of the Bennett's house to cause the death of Linda and Michael.
Linda had been meditating since around 9:15 pm as twice as many death threats had been received that day, the anniversary of Aaron's death. Michael returned home around 10 pm and after a short conversation she decided to go for a swim. As she turned to complete a second lap, this time underwater, Emily hacked the operating system of the house and caused the glass cover of the pool to close over the top of her. She discovered she was trapped and started to bang on the glass. Michael had to break the door of the house to get to her and while he was attempting to break the cover of the pool, the house security system shot him. As he collapsed onto the cover, Linda ceased struggling and drowned.
Since the death of Aaron, the Bennett's had received 56,312 threats and 19,418 of those were death threats.