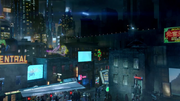 Koln Avenue District
is a part of the city that is located near a section of
the Wall
. A number of black market medical procedures are reportedly being performed in the area.
John Kennex visits the Recollectionist in the Koln Avenue District and is interviewed by an MX after leaving his black market medical laboratory. A later conversation with another MX, John reveals that he is fond of the district for a number of their "tasty noodle joints".
The Koln Avenue District shows a number of visual Blade Runner influences, from the rainy neon lit street scape, to Asian influences in the noodle joints and citizens walking past with umbrellas quipped with neon lighting.
Community content is available under
CC-BY-SA
unless otherwise noted.