Harvey Davis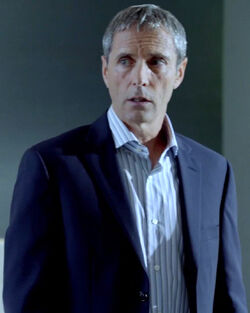 Portrayed by
Micheal Ryan
Harvey Davis was the father of Scarlett Davis.
Scarlett was a chrome and was a student at Mendel Academy where she became friends with Lila Hoving. After Lila's death, Scarlett discovered that Harvey had taken care of something. She disapproved of it and ceased speaking with him.
He had heard that Mrs. Hoving had hired a private investigator to see if Lila, Scarlett and Elinor Church had been together that night. The investigator discovered that they had been and that Lila and Elinor had lied that they were all friends. Harvey paid money for the investigator and the evidence to disappear. Mrs. Hoving also discovered that Harvey had arranged this and told him and the other parents that they would all pay for it.
Mrs. Hoving arranged for Scarlett to take an overdose of Vero, killing her. During the subsequent police investigation, his destroying of the evidence was discovered by Detective John Kennex and Dorian. Initally, his attorney, Christopher Corella was present via hologram, but as the questioning continued, Harvey terminated the hologram connection after it was revealed to Harvey that Scarlett did not take an accidental overdose. Harvey confirmed that Scarlett had wanted to tell the truth from the start, that all three of the girls had been together and taken Vero, but Harvey had pressured his daughter to lie. It was an accident and he did not want his daughter to have the death follow her around for the rest of her life.