Haley Myers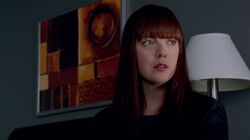 Portrayed by
Katey Hoffman
Haley Joelene Myers was one of the eyewitnesses who sawEthan Avery murder Dr. Liam Fuller.[1]
Background
[
]
Haley was a registered nurse.
She wore a scarf that was from her deceased grandmother on the day of her scheduled testimony in the trial of Ethan Avery. Her grandmother had been dead for over a year.[2]
Murder of Dr. Liam Fuller and the trial of Ethan Avery
[
]
Haley witnessed Ethan Avery murder Dr. Liam Fuller. She had just finished her shift and was on the way to her car in the parking garage about 8 AM when she saw Avery shoot Dr. Fuller.
Before she could testify that it was Avery who shot Dr. Fuller, one of the Avery clones broke into the room in the safe house she was testifying from via holoprojection and killed her and the Bailiff.
Haley asked Maya Vaughn to tell Detective Kennex and Dorian that it was Ethan Avery that killed her, as Maya had undergone the Cerebellux procedure and could talk to spirits of deceased people when in contact with a possession of theirs. Maya had Haley's grandmother's scarf. Haley also asked Maya to visit her parents and tell them that she was okay.[3]
Relationships
[
]
Haley was married.[4]
Memorable Quotes
[
]
References
[
]