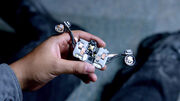 A face maker is a device that is able to change the users visage to another one that has been programmed in. The frequency they are transmitted on are able to be tracked within a building to ascertain if they are being used.
Description
[
]
A small rectangular device with two receivers on its sides. The device attaches to the users chest and is activated and deactivated by flipping a switch.
Uses
[
]
Eight face makers were used by a group led by Gerald Leighton to take hostages on the 25th Floor of the Sanderson Building.
Detective John Kennex used the face maker programmed to show Michael Demarais' face in order to infiltrate the hostage takers and provide assistance to Dorian.
Episode appearances
[
]
Gallery
[
]