Jurassic World: Dominion Dominates Fandom Wikis - The Loop
Play Sound
Ethan Avery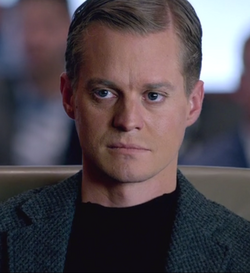 Ethan Avery was philanthropist and business man who was accused and found guilty of the murder of Dr. Liam Fuller.
Background
[
]
Prior to his arrest and trial, Avery had inherited a sizable amount of money which he donated a good portion of to charity.
Murder of Dr. Liam Fuller
[
]
It was revealed that Avery had arranged with Dr. Fuller to create four clones of himself during a medical trial. These were brought up by Dr. Fuller in his mother's house and hidden away from society due to the ban on human cloning that was brought into effect 20 years ago. Dr. Fuller wrote a letter to Avery stating that he was going to go public with the information on the clones. It was this that lead to Avery killing Dr. Fuller in the parking garage adjacent to the Fertility Clinic that Dr. Fuller worked at. Around 8 AM on the day in question Avery shot him three times, at point blank range—two in the chest and one shot in the head—using a high capacity assault pistol. Avery was seen murdering Dr. Fuller by two eyewitnesses, Maya Vaughn and Haley Myers. The murder was investigated by Sandra Maldonado, who was a Lieutenant at the time of the investigation. The idea of a clone of Ethan Avery was discarded by Sandra Maldonado as the Anti-Replication Department was contacted but had no record of Ethan Avery on file.
Ethan Avery was charged with Homicide-75643A (Section 98).
Trial and attempted release
[
]
During the trial, the two eyewitnesses were targeted by Avery's clones at the safe house they were testifying from. A Bailiff and Hayley Myers were killed, while Maya Vaughn was able to escape out the window of the bathroom. The clones had also destroyed MX-43 108 who was guarding room 102. They took the ear and communication center of the MX-43 in order to monitor the police investigation.
While transferring Maya Vaughn to a new location, the cruiser being driven by Detective Kennex was attacked by the four clones. Maya Vaughn was injured in the attack. Kennex was able to kill one of the clones, while the other three escaped. The remaining three clones tracked Detective Valerie Stahl to Dr. Fuller's mother's house and kidnapped her. They bargained with Captain Maldonado for the release of Ethan Avery in exchange for Detective Stahl.
Captain Maldonado appeared to agree to the clones request for a transfer, but with the assistance of Rudy Lom, a holographic image of Avery being walked down a corridor in the County Jail with Captain Maldonado was projected into the woods meeting location. This fooled the clones until a flock of birds flew through the projection. Detective Stahl was able to get away from the two clones holding her, while Detective Kennex and Dorian fired on the clones, killing two. The third attempted to escape in the van, but Dorian gave chase and flipped the van over, killing the last clone.
Avery was returned to his cell in the County Jail and his trial resumed. Maya Vaughn testified that she saw Avery kill Dr. Fuller.
Trivia
[
]
Ethan Avery has an IQ of 180.
ID number 3568-7346.
PIN number 27589643.
His marital status is single and he was listed as having no children on the Police Database file.
His occupation was listed as Pharm and he was self-employed.
While in Solitary Confinement in the County Jail he had no visitations, correspondence or phone calls, which could be confirmed by the Warden.
Quotes
[
]
"I'm surprised you are not more highly ranked, for a woman your age. I bet you have one of those plaques hanging on your wall just to show everyone how far you have come in such a short amount of time. No ring. You've been single a long time."
- Ethan Avery to Sandra Maldonado (Blood Brothers)

"I know that you don't like me because people respect me. Because what I do amounts to more than just putting on a business suit and barking orders from a desk, hoping that people will take me seriously. You think this far fetched scheme of yours to put me in jail will make you feel important. Well, let me be the first to tell you that you are not important. You'd be content if just one person could see you and want you. But they don't do they? All those men that you work with. They just walk right past you. Like you are invisible, no matter what you do. No matter how bad you want it. At the end of the day it will always be just you. Alone."
- Ethan Avery to Sandra Maldonado (Blood Brothers)