Eric Lathem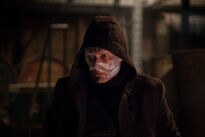 Age
33 (DOB - 11/06/2015)
Portrayed by
Michael Eklund
Eric Lathem
was an employee of the
Lower Term
Department of Motor Vehicles in the
City
.
Background
Edit
Lathem was suspected of having dysmorphic disorder, where Detective Valerie Stahl described it as "He sees images of perfection all around him, and the more he compares himself to those images, the worse he feels about himself, and he's compelled to take the steps to mitigate the disaster he sees in the mirror."
Over seven years, Lathem had 32 surgical procedures performed and he went on disability leave in September 2047, the time the trials for the nanobot facelifts started. Lathem was one of the recipients who was horribly disfigured.
The search for the perfect face
Edit
Lathem discovered that one of the trial doctors, Dr. Curtis McCann was practicing illegally as a plastic surgeon in the East Term. He blackmailed Dr. McCann to continue to perform surgeries on him to correct the damage that had been done and to create the perfect face that he wished to have. In order to obtain the genetic blueprints required, Lathem accessed an actuator from Dr. McCann and subdued the selected donors by injecting nanobots into them to collect the data. The nanobots caused the donors hearts to stop and the deaths were all considered to be heart attacks, as the half a millimeter puncture wound at the base of their necks was not spotted by the Medical Examiners.
None of these deaths were considered suspicious until Brian Barrow was killed by Lathem. Barrow was a Chrome and a heart attack at a young age was highly unlikely for a Chrome. Detective Stahl requested that Detective John Kennex and Dorian look into the death with her. Eventually the investigation lead to Lathem and the reason for his search for his own perfect face.
Lathem had been chatting online everyday with Judy Wood who lived in an apartment across the street from his own. He had told her he lived in Arizona and the avatar he used for his online persona was a blend of his own version of his perfect face. The police tracked Lathem to Wood's apartment, where Lathem had discovered that his search for the perfect face was unnecessary as Wood had been blind since birth. Upon hearing the police coming, Lathem ran outside the apartment onto the roof top terrace. Detective Kennex had followed him and Lathem got on the edge of the terrace. Detective Kennex attempted to talk to him, but Lathem stepped off the building and fell to his death.
Eric Paxton
Laura Schneider
Collin McDonald
Alec Govain
Barrett Morris
Philip Moses
Lucy
Jonathan Geddes (was identified by police and put under protection)
PIN Number 875943
Lathem held a class C Driver's License, #7883921, issued on 11/06/2044 and expired 11/06/2049. He was an organ donor and had no restrictions on his license.
Lathem lived at 904-762 District Way.
He weighed 160 pounds, was 6'0" with brown eyes and brown hair.
We're supposed to be loved.
- Lathem to Kennex
Community content is available under
CC-BY-SA
unless otherwise noted.