Danica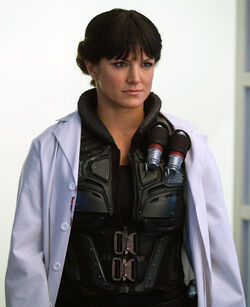 Family
Creator - Nigel Vaughn
Danica is an advanced XRN series prototype android. The XRNs were created by Dr. Nigel Vaughn, through his company Lumocorp Robotics Corporation. She was the first and only one ever made.
Background
[
]
Danica was built to promote the XRN series, that were to replace the DRN series, to apparently fix the malfunctions of the DRN series' Synthetic Souls when used as police officers. She was given the name "Danica" by Dr. Vaughn.
It later became apparent after John Kennex blew up and destroyed Danica that she was merely meant to be a diversion so that Dr. Vaughn could escape over The Wall.
Capabilities
[
]
High Level Durability; Police small arms ranging from 5.56 rifles to 9x19 handguns failed to harm Danica, only sparking off her torso. A contact detonation of one of her own grenades being activated by Officer Kennex eventually did her in.
General Weapons Proficiency; Danica is seen using handguns and automatic rifles, as well as displaying high levels of accuracy even while firing from the hip without any aiming assists, such as a laser sight or the like.
High Strength; Danica can fight hand to hand with Dorian and win, and overpowers the human Kennex.

Hand To Hand; Danica shows competence in hand to hand combat against Dorian, and easily beats Kennex.
Casualties caused by the XRN
[
]
Mentioned as causing the death of 26 human police officers
Shot and killed eight seen civilians during reactivation
Five other civilian bodies seen after her second rampage
Mowed down and destroyed eleven other MX-43 police officers
Gallery
[
]