Jurassic World: Dominion Dominates Fandom Wikis - The Loop
Play Sound
DRN-494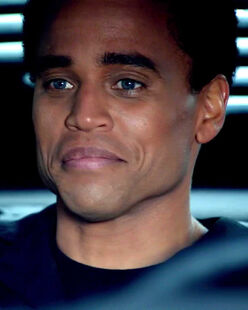 DRN-494 is a synthetic DRN model who was decommissioned from the Police Department prior to 2045. He was recommissioned to work as a maintenance worker at St. Mary's Hospital. Apart from Dorian, he is the only other DRN to be confirmed to be recommissioned.
Police service
[
]
During his time as a Police issued DRN, DRN-494 was a highly decorated police officer.
Previous cases he worked on included Raphael Vasquez, armed robbery and the hostage taking of Philip, a young boy, case #4378.
During case #00C-Q74105 Dorian gave DRN-494 his case files back. Unfortunately they were outdated and DRN-494 accosted Raphael Vasquez on the street in order for him to be arrested for the Armed Robbery. DRN-494 was unaware that Vasquez had served time for that robbery in 2045.
Philip was alone in a house with his mother's boyfriend. The Police were in a standoff with the boyfriend. DRN-494 used his thermal imaging to track the location of Philip, who was hiding under the sink. The boyfriend was looking for Philip and DRN-494 broke protocol, entered the house and killed the boyfriend. When he found Philip, the boy looked at him for the longest time, the most human connection DRN-494 had ever had, and Philip then hugged DRN-494. He described this moment as his proudest moment as a cop.
Case #00C-Q74105
[
]
DRN-494 was unaware that he had previously been a Police Officer, and why he had been decommissioned,  until Dorian returned his files. Dorian also explained the reasoning behind the decommissioning and the Luger Test that all DRN's were required to undertake. The implication is that DRN-494 failed the Luger Test after his performance during the hostage case.
DRN-494 rode along with Dorian and Detective John Kennex during the case after Dorian invited him. Kennex was not appreciative of DRN-494 joining them. He was not allowed out of the cruiser after he had accosted Raphael Vasquez and caused the destruction of a nearby MX-43 and Watch Drone. Dorian requested his assistance later in the evening, but DRN-494 declined to help as he was terrified. He was eventually allowed to accompany Kennex and Dorian into the Police Precinct, where he was spotted by Captain Sandra Maldonado.
Later that evening, after the conclusion of the case, DRN-494 was returned to St. Mary's Hospital. Dorian removed his case files but left the memory of Philip with him.
Gallery
[
]