Cynthia Kasden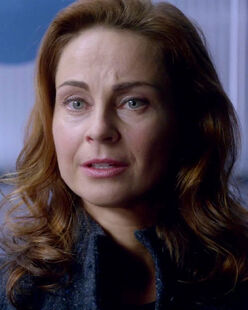 Portrayed by
Diana Pavlovska
Cynthia Kasden was the mother of Aaron Kasden.
After Aaron was killed by the Synturion Smarthome security system of Linda and Michael Bennett, Cynthia took Synturion to court. The court acquitted Synturion of any responsibility and Cynthia made some threatening remarks about the company. She had taken the company to court as she believed the technology was too dangerous and wanted people to understand the facts regarding the technology.
She was questioned about the deaths of Linda and Michael Bennett, but she had been at a vigil at her local church for her son.
Cynthia believed that her son did not have any friends, as he spent a lot of time on his computer. Detective Valerie Stahl discovered an image of Aaron created from other images of people that Aaron had connected with online and made friends with. She showed the image to Cynthia to reveal that Aaron had touched a lot of lives while he was alive.