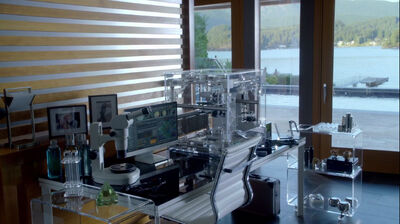 A Chemulon-6 ChemPrinter is a printer that can print drugs. In the City, they are very expensive and highly regulated. A license is required to own a ChemPrinter. A safety feature of the ChemPrinter is that it maintains a record of every drug it prints, by uploading the information to the cloud.
Uses
[
]
Julian Wollenberg used his father's Chemulon-6 ChemPrinter to create Vero pills for fellow Chromes and Lila Hoving. The ChemPrinter had been used by his father to print his own pills due to the different treatment avenues his physicians were prescribing.
The ChemPrinter was hacked under the order of Mrs. Hoving, and the dosages for Elinor Church and Scarlett Davis adjusted to a fatal level. The Police Department were able to see every customer Julian had provided Vero to due to the information stored on the cloud.
Licenses for Chemulon-6 ChemPrinter
[
]
The following companies / individuals were granted a license for a ChemPrinter:
Edgar Wollenberg. Designated use: personal.
Pharmaconstruct. Contact: Peter Cage. 7141 Mountain View Avenue. 9th Term. Designated use: Military / Government.
Pharmafast. Contact: Rick Anderson. 8631-4 Hill Street. 9th Term. Designated use: Industrial pharmaceuticals.
Episode Appearances
[
]
Gallery
[
]