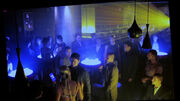 Are Friends Electric? is a nightclub owned by members of the Albanian Consortium.
Customers at the nightclub mingle with Intimate Robot Companions created and owned by the Albanian Consortium. The nightclub has a 5 star rating, a Health of A and its permits are Active, according to the hacking that Dorian performs on the Shaw IRC records.[1]
Title
[
]
"Are "Friends" Electric?" is a song from the 1979 album Replicas by the Tubeway Army. The song lyrics reference a human living amongst robots. Gary Numan, the composer and singer for the song, has another of his songs feature in the opening scenes for You Are Here.
References
[
]