Anton Cross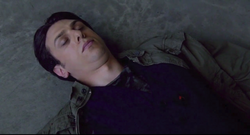 Portrayed by
Nick Hunnings
Anton Mark Cross was a programmer at Trope Software.[1]
Background
[
]
Anton was employed specifically at Trope Software to develop software that exploits an obscure bug in the location-tracking protocols used by nearly all sensors, phones, cameras, retinal scanners, bio-stamps, even DNA readers, which then enabled them all to communicate in real time to precisely track virtually any person at any time. Trope Software's main program was real time tracking software, predominately used in advertising.[2]
Anton lived in Lakeshore Heights. He was a gamer and was an Elder in Warriors of Grun. His girlfriend, Kira Larsen, believed he was being headhunted by a woman named Natalie from Kinsey, a recruitment company. This was a cover story and Natalie was blackmailing Anton to develop the guidance system for the Magic Bullet they were developing.
Anton's car had parking violations outside Merit Bank. The first one was three weeks prior to his death, then a week later he received another one. He had an account in the bank under the name Mark Cross, using his middle name. The account was for a safe deposit box. In the box was a video chip and many small pieces of paper with numbers written on them. The video chip revealed that he was being blackmailed by the Chechen Arms Dealers who were threatening the life of Kira and her daughter Aimee.[3]
Death
[
]
He was killed by a single gunshot wound to the chest by a large caliber round. The shot was originally considered to be impossible, but it was discovered that it used the tracking software developed by Anton. This Magic Bullet is able to lock onto a person and follow them until it hits their target. Anton was killed to tie up any loose ends and ensure that his software could not be used by other weapons developers.[4]
Relationships
[
]
Anton was seeing Kira Larsen, a fellow employee at Trope Software. When they first met he wrote his phone number down on a piece of paper using a pen. Kira tore it up and he told her he would win her over. They continued to write each other notes on paper using a pen. Anton stored them in his safe deposit box at Merit Bank.[5]
Memorable Quotes
[
]
Image Gallery
[
]
References
[
]