Adelaide Jones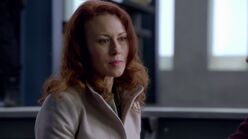 Adelaide Jones was a research assistant to Dr. Liam Fuller during the period of his research into human cloning.
Background
[
]
Adelaide Jones was interviewed by Detective Valerie Stahl about the research project she was working on with Dr. Fuller. She was able to inform Detective Stahl that they did most of their research at his mothers house and that once the anti-replication bill came into law, the funding money dried up overnight and she had not seen Dr. Fuller since.
Article on Stem Cell Cloning
[
]
In 2026, Dr. Liam Fuller published an article on Stem Cell Cloning. Below is the text from the start of the article.
Producing Stem Cells for Human Clone Transfer by Liam Fuller


With acknowledgements to Adelaide Jones, Research Assistant

Part 1: Intent New section, Sec. 1, the people intend to advance treating adult gene mapping use as a crime and try a new approach that:




1. Allows ultimate choice in progeny selection resulting in reproduction in the truest sense of the word and an intimate understanding between parent and child.


2. Generates multi-generational data useful in the mapping detection and elimination of congenital deficiencies and disease pre-dispositions.

3. Takes gene mapping out of the hands of illegal research organizations and brings it under a tightly regulated medic-board licensed system that can offer the ? and continuity of the approach across society.




In conjunction with memory mapping this can offer a new approach to the death problem and with modifications to the legal framework can offer something that is, for all intents and purposes, a permanent life state for the individual citizen.
References
[
]